A passionate inventor. A conversation with Justyna Miller.
Date: 2022-08-17
Justyna, a physiotherapist with many years of experience, is the source of all our concepts for supporting toddler development. She is a busy mum of Maks and Pola in the morning. During the day, she is an active physiotherapist working with children in need of rehabilitation at the foundation. She is also a sling instructor and physiotherapy consultant for parents, and recently one of the founders of Say Mommy. In her work with children, Justyna combines professionalism with the right approach – she is warm and open. All this makes babies feel at ease and safe with her.
She graduated with a degree in physiotherapy from the Medical University of Lodz and completed numerous training courses. She started working with babies already during her university years. She refers to herself as a "therapist of the NDT Bobath concept", however, she is open to knowledge and different approaches, which is easily spotted when looking through her work achievements.
How would you describe yourself? 
I think that when caring for typical children, I try to be an observer and a companion who follows them and paves the way for them to develop and experiment freely
You once planned to be a paediatrician. Do you regret that your career path took a different turn?
I am a children's physiotherapist because I enjoy creating and nourishing unique relationships with babies. I like seeing the world through their eyes and confronting their perspective with my own experience, which allows me to observe their progress. If I were a paediatrician, I would have more limited contact with children and would not be able to observe their development as much. I just like to see their smiles as often as possible. When I work with non-typical children, I am especially interested in finding developmental similarities between sick and healthy children. This allows me to better assist the ill ones and test what works and what does not. Each child is different, but I know that my work as a physiotherapist is just as important as the work of a parent. This is why I often talk about how parents can support their children from the beginning and adapt the space for balanced development.
What does Say Mommy mean to you? Where do you get all the ideas that allowed you to create the Shapies?
I had an idea for some solutions, but not products. I certainly did not think of it in terms of a brand or a business as I do not have a head for that sort of thing. However, I came across some great people who had faith in the project and were able to present it in such a fantastic way. I have been actively present in the project, advising and making sure that the clothes are actually helping. The sheer volume of work that needed to be done would have surpassed me, so I am even more pleased that my ideas have seen the light of day.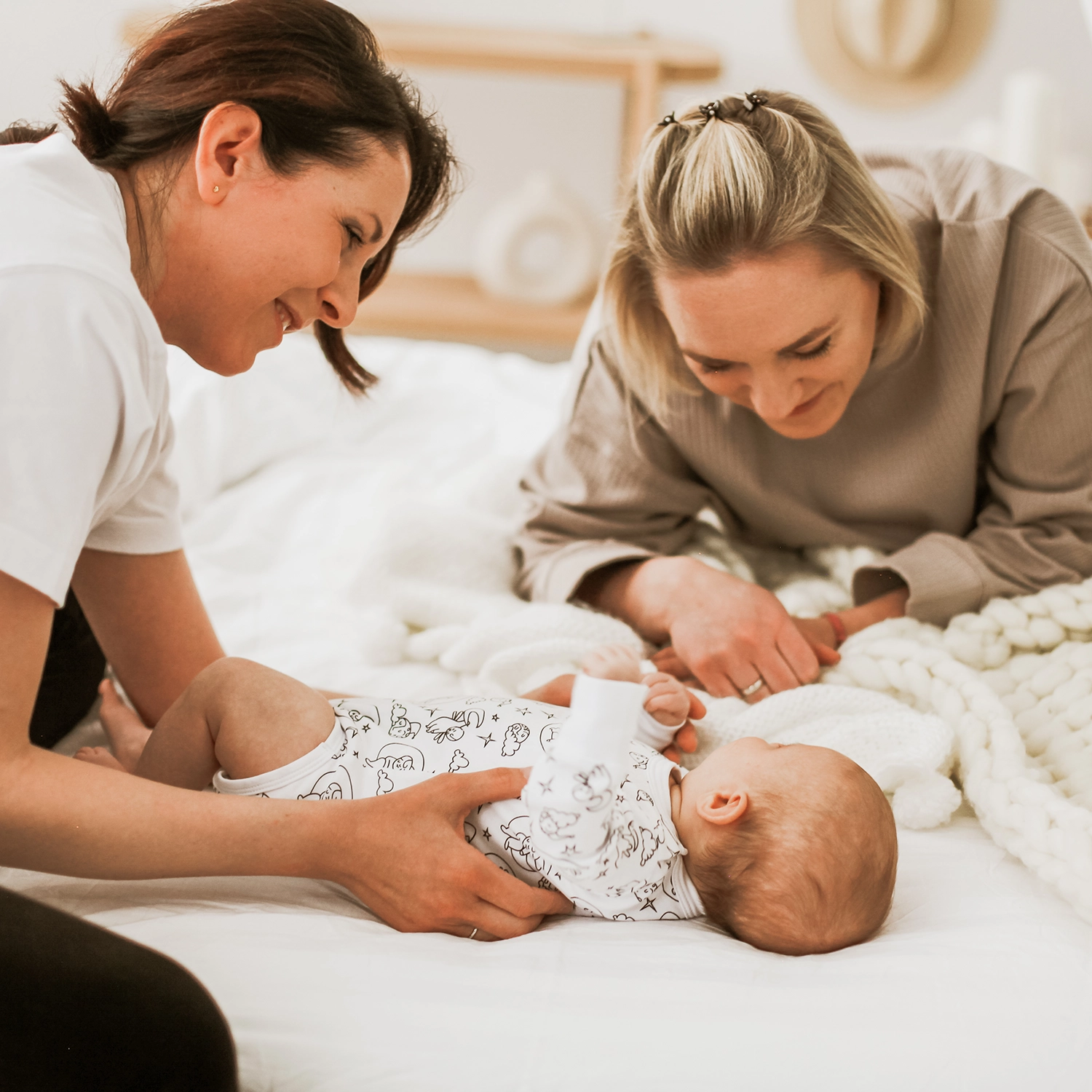 The Say Mommy brand was born from observing children. I have a head full of ideas thanks to the therapies or consultations I do, and thanks to raising my little ones. You have mentioned that the thought that accompanies such considerations is "how to give the child the opportunity for a varied experience, but without overstimulation". This is why there is also a quiet mission behind Say Mommy's solutions to minimise the number of gadgets that a child is surrounded by from the very beginning. What would you like to pass on to parents, what tips would you like to give?
Most of all, right after birth, do not be afraid to give your child the opportunity to experience space in different positions. It is also worth paving the way for the child to develop freely, not to rush things, but to provide variety. Being open to different concepts and opinions is important, but do not forget your own intuition. Ask yourself what you need in your everyday life as a parent and what your child needs. I am talking about the mundane stuff here. Do you perhaps need to have your hands free during the day to hoover the flat or do the washing up? Is it therefore the right time to learn to tie your baby in a sling? How do you prepare your little one for this? Or do you have to go out with the dog or to the shop and need to keep the baby close? Or maybe you want to lie down for a while and do not know how to get your baby interested in the position you wish to be in? You will come across a lot of information and it is worth avoiding extreme opinions. I confront a lot of professionals and often come across quite radical and differing views. It all depends on the child, though. One method may not work for one baby, but it will work well for another. That is why I try to test the tip before I negate it.  
Just be close to your babies – they need You more than anything!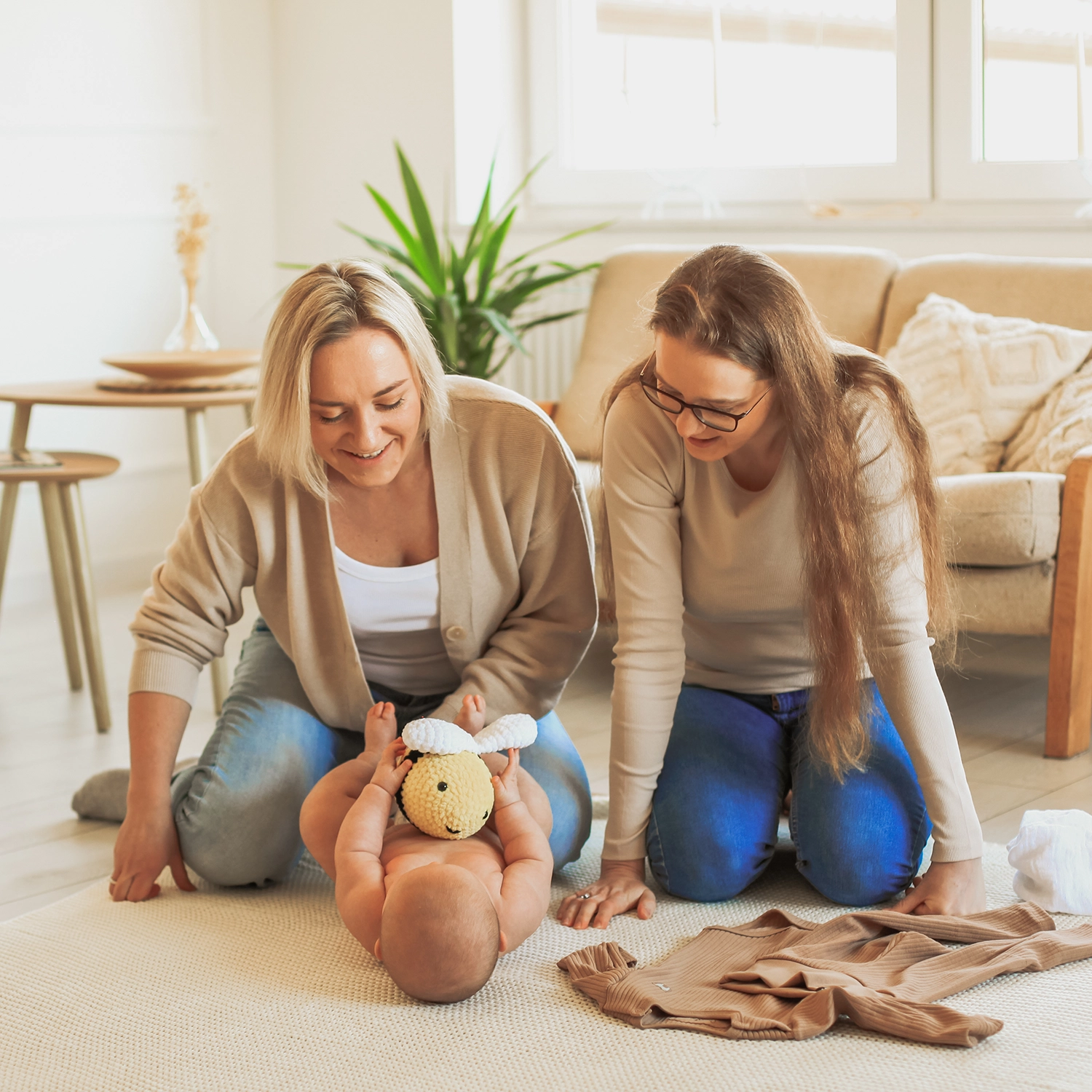 Justyna Miller – she is a paediatric physiotherapist, a treasure trove of knowledge, experience, and passion. She is also a substantive pillar of Say Mommy. Justyna graduated from the Medical University, Faculty of Military Medicine, majoring in Physiotherapy. She is a specialist in neonatal physiotherapy, as well as Manual Therapy in paediatrics. She has completed courses in NDT Bobath, deep massage, neurodevelopmental diagnosis, rehabilitation of infants and older children, infant care according to the Bobath concept, childhood developmental disorders, and basic PNF.